Outcomes from "Supporting innovations in road transport" online workshop
October 15, 2022
The workshop, co-organised with the European Commission and CCAM partnership, gave an overview of funding instruments available at EU level, which can support different stakeholders (from large companies to start-ups) in crossing the last steps before market uptake.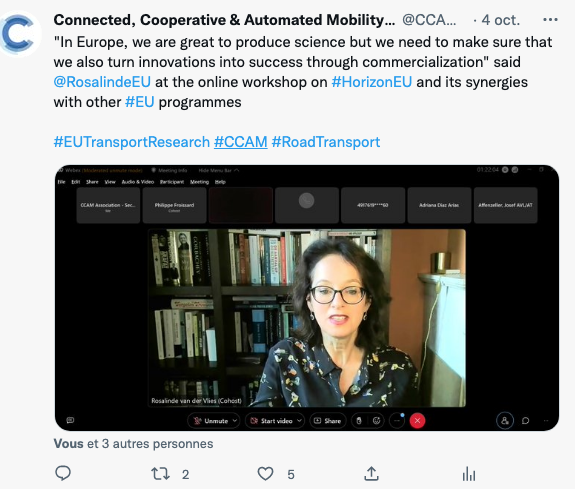 Our chairman, Armin Gräter, underlined that, "In 3rd phase of CCAM Partnership – FOTs in Living Labs will lead to user acceptance and business cases, but after innovation is demonstrated, there is still a need for implementation".
To support the uptake of CCAM, among the many funding opportunities presented during the workshop,
One of the opportunities for

CCAM

innovation uptake funding can be Connecting Europe Facility (CEF) ITS call, where the aim is to reach similar services along the whole TEN-T network.
The European Investment Bank (EIB)

c

an support the

CCAM

innovation uptake with:

intelligent transport systems,

safe system approach,

the resilience of transport infrastructure among the target sectors.

Another opportunity for

CCAM

innovation uptake funding can be the Digital Europe programme where the digital capacity is built and deployed – this is related, among others, to

AI

,

cybersecurity

, and the common European mobility data space.

Another way to support the

CCAM

innovation uptake:

Start-ups and SMEs can benefit from the European Innovation Council (EIC) Accelerator to scale up high-impact innovations with the potential to create new markets! 
As a pre-requisite to the deployment and scaling up of innovative road transport solutions, the proper framework conditions should be in place. The scope of co-programmed partnerships is limited, and a lot needs to be in place to ensure the uptake of innovations. In the field of CCAM, it is important to proceed at the same time with:  
Research,

 

Standards, and

Regulations.
In general, SYNERGIES BY DESIGN are needed to move from research results to deployment
You can now access workshop presentations:
and watch the replay.