CCAM Association General Assembly December 2021 welcoming new members
December 15, 2021
On 14 December 4th, the General Assembly of the CCAM Association took place online. The General Assembly is the supreme body of the Association, and it approves the general policy of the Association based on proposals of the Executive Group and gives recommendations to the Executive Group for the implementation of this policy.
At the beginning of the meeting, 21 new members got approved:
5GAA,
ACCIÓ – Catalonia Trade & Investment Agency,
Aim Technologies,
Bercman Technologies,
Brno University of Technology,
CDV,
Ecov,
Ericsson,
FEHRL,
Helmond,
HERE,
Lithuanian Confederation of Industrialists,
Mosaic Factor,
Oxfordshire County Council,
Public University of Navarre – UPNA,
Royal HaskoningDHV,
Technische Hochschule Ingolstadt (THI),
Universidad Carlos III de Madrid,
The University of Bath,
The University of Palermo,
The University of the West of England
Right now, the number of members has reached 187, out of which 135 attended the General Assembly. You can access the complete list of CCAM Association members here.
It was followed by the election of the Partnership Delegates. In the member category "5.2.5.2. Platform or cluster at national or regional level", the majority of members voted for Mathieu Saraiva from the French Automotive & Mobility Network. This way, Mathieu is joining the previously elected nine Partnership Delegates to represent the interests of all the Members of the Association and of the Association as a whole at the CCAM Partnership Board. Find out who else is part of the Partnership Delegation here.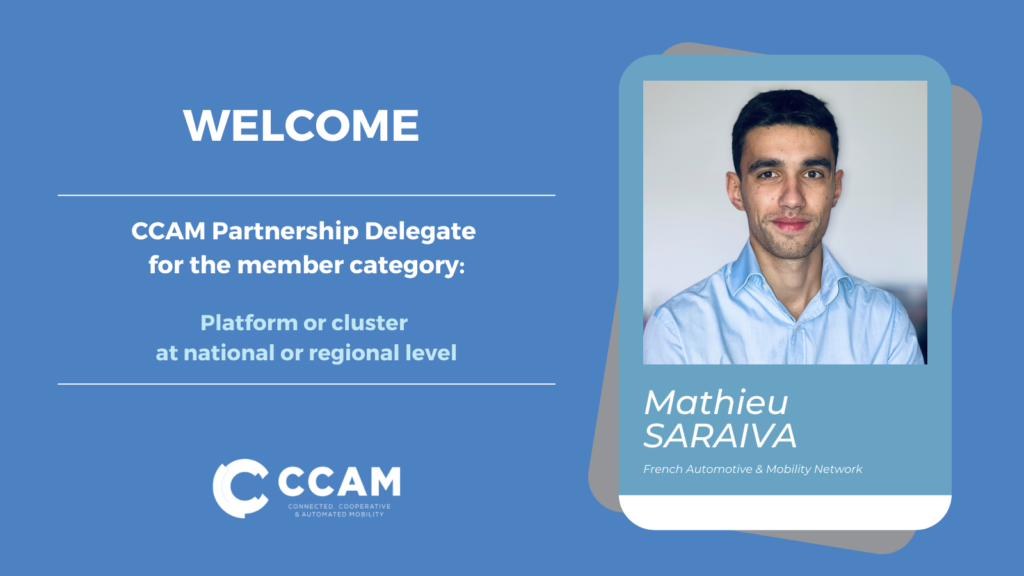 The following items were also discussed:
The General Assembly approved the membership fees for 2022 at the same level as in 2021 and agreed with the Association budget for 2022 proposed by the Administration Board,
The introduction of the Partnership's Additional Activities Plan,
The announcement of a survey for members, coming up in January.
In the second part of the General Assembly, Ingrid Skogsmo (VTI), Leader of Cluster 6: Societal aspects and user needs, together with colleagues: Josephine Darlington (Drive Sweden), Vaike Fors (Halmstad University) and Magnus Granström (Chalmers), organised a short presentation of two national projects with people & needs focus: "AHA – A Human Approach" and "4All". Participants got a chance to learn more about the platform Drive Sweden, and they took part in the brainstorming on who is "all" in the phrase "mobility for all". Such a human-centric session brings things in perspective and adds important context when working on advanced technologies, such as connected, cooperative, and automated mobility.
Finally, the Secretariat reported on the recent activities:
The development of CCAM topics for the Work Programme 2023-24,
The CCAM States Representatives Group meeting on 25 November,
The Partnership Board meeting on 8 December, which officially adopted the CCAM Strategi Research and Innovation Agenda (SRIA), which you can access here,
The communication activities of the Association.
To conclude, the General Assembly agreed with the draft calendar for 2022:
a first in-person CCAM multi-cluster meeting is planned for 31 March,
the next General Assembly will be held in June.