What happened @ #TRA2022?
November 18, 2022
The 2022 edition of the TRA conference gathered more than 2000 participants who had the opportunity to visit +60 exhibitors and listen to +600 speakers.  It is quite reasonable to say that the programme was supercharged!
On 14 November we had two strategic sessions where our CCAM Association members were active:
– @ 15:15: Mobility for all: fair, inclusive, affordable and accessible in all places – with our Cluster Leader in Societal Aspects and User Needs, Ingrid Skogsmo, chair, and rapporteur, in this session.
– @ 15:15: CCAM in Europe – Paving the way to deployment with our CCAM Association Vice-Chairman Serge van Dam, Henriette Cornet, Cluster Co-leader of Large-scale demonstrations, and Torsten Geissler, Cluster Leader of Integrating the vehicle into the transport system. Synergies, transport modes integration, and societal dimension were underlined in this session.
The following day, on 15 November, Henriette Cornet was already in the starting block to moderate the morning invited session " Automated Mobility over the world: the need for international collaboration", where it was stressed how important it is for academia, public and private sectors to work together towards CCAM.
Our Chairman, Armin Gräter, was among the speakers in the 13:15 strategic session "Time to act: reaching climate-neutral cities by 2030". He brought the personal vehicle perspective to the session on climate-neutral cities by 2030: right now, parking search is responsible for 30% of traffic and it cannot be the case in the future. To provoke change, human-centric measures are needed, and users have to get involved in the creation of solutions. Thanks to Cities Mission, urban planners are taking the systemic approach to achieving climate neutrality. "Multi-level governance is needed: cities, regions and governments have to work together. Cities hold the key to solutions but are not always invited to the table…" underlined Françoise Guaspare, CCAM Partnership Board Delegate for Local and Regional Authorities.
Two H2020-funded projects, Levitate and Drive2Future, and two Horizon Europe CCAM projects, Sinfonica ad Move2CCAM, were presenting their research on societal and user needs in CCAM in the 15:00 invited session titled "Making CCAM a smart solution for society". Participants discussed in groups how to ensure CCAM acceptance: they agreed that understanding is key (thus clear communication is needed), and first-hand experience is crucial.
At the end of the day, Henriette Cornet had one more invited session: "AutoMATE: Concertation for Smart, Green, Automated and Integrated Transport". Six H2020 projects, SHOW, AVENUE, HARMONY, SPROUT, FRONTIER, and PASCAL, looked into technological challenges experienced by EU projects on CCAM and beyond: generating simulation models, data sharing and its quality, integration with existing services. Important learnings for new projects.
The 3rd day of the conference, 16 November, kicked off with the invited session dedicated to the cross-cutting topic of Road Safety. Ingrid Skogsmo and Peter Urban (Leader of the CCAM Validation Cluster) were among the speakers of this session, sharing their experiences and knowledge. They presented the envisaged areas of research for road safety from the ERTRAC Roadmap. Afterward, the audience was very participative: better urban space planning, reducing driving speed, retrieving and analysing suitable data – are among the solutions to ensure the safety of people using active modes such as walking or cycling. Participants also underlined that the full potential of was underused and legislation could help.
Margriet van Schijndel, Key Enabling Technologies CCAM Cluster Leader moderated the strategic session on new approaches for human behaviour, HMI, and safety analysis across all modes. Safety risks and the central role of human were discussed. The shift from risk identification to risk prediction was prominent. It was concluded that machines won't substitute humans; they will extend human capabilities.
During the short coffee break, Henriette Cornet presented at the UITP stand the CCAM-related H2020 project SHOW. Our Vice-Chairman, Serge van Dam complemented it with the introduction to the CCAM Partnership.
Finally, at the invited session on international dimensions of European competitiveness and technology leadership, organised by our FUTURE HORIZON project, Gereon Meyer, Co-Leader of Vehicle Technologies CCAM Cluster, showcased good analysis of different approaches to road transport research around the world. Access here the factsheets on US, China, South Korea, and Japan.
On the last day, 17 November, there was an opportunity to participate in
a follow-up session of our 4th October online workshop on the way from research funding to deployment funding, co-organised with 2Zero Partnership and the European Commission. The conclusion was clear: we need to break down the silos!
the last strategic session of the conference titled "EU programmes to support the market uptake of innovative road transport solutions", where you could discover

how European Partnerships can

support sustainable competitiveness and industrial policy. During the session, it was clear that EU programmes had to be more integrated and listen to everyone, not only citizens but also users like logistics and freight companies.
TRA Conference was also the set for the announcement of the new position taken by our member Ingrid Skogsmo as the new chairwoman of ECTRI.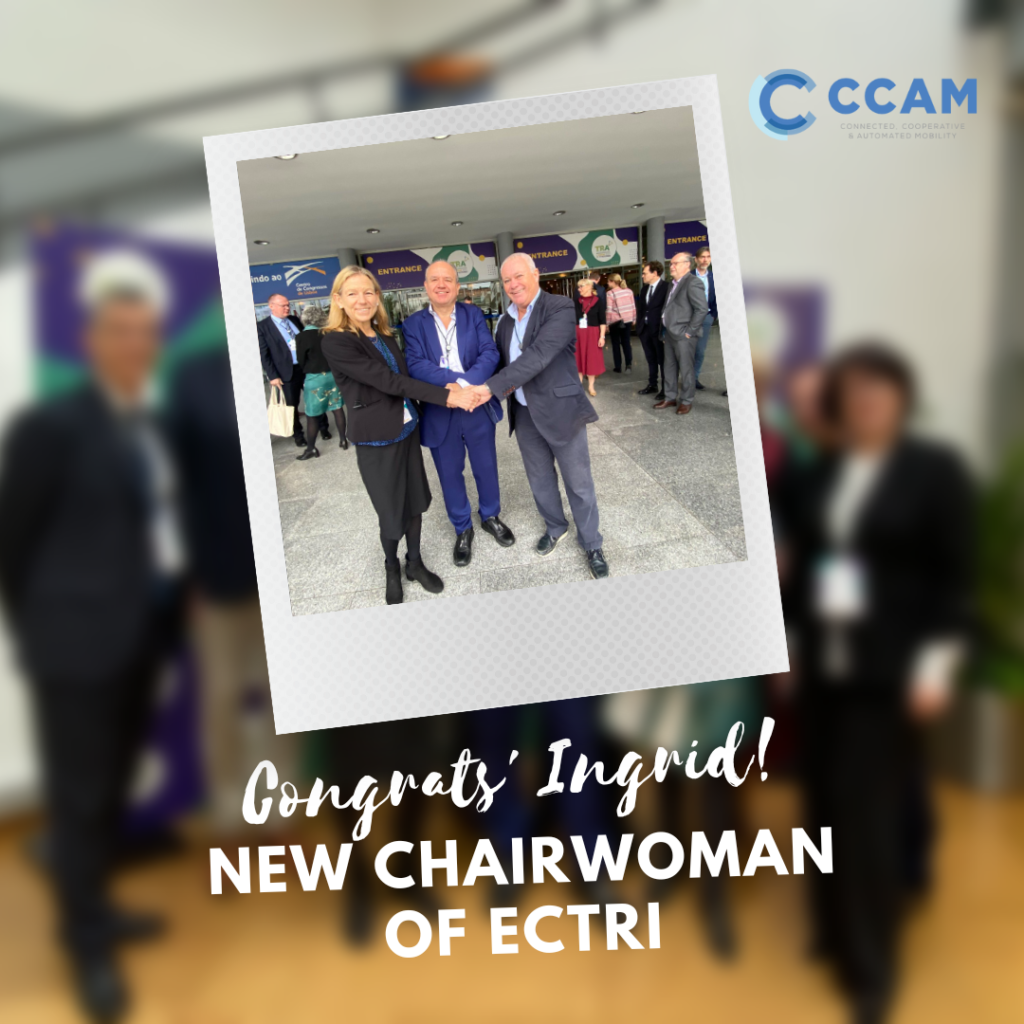 We would like to thank everyone who came to our stand. You were numerous to give us a "hello", to ask questions about our activities, and to show interest in CCAM development.
You can revisit the conference by accessing all the TRA2022 material – from photos to presentations and more.
We are already gearing up for the next edition of the TRA conference, which will take place from 15-18 April 2024 in Ireland!
See you there.