#RTRConference2023: All about synergies
February 17, 2023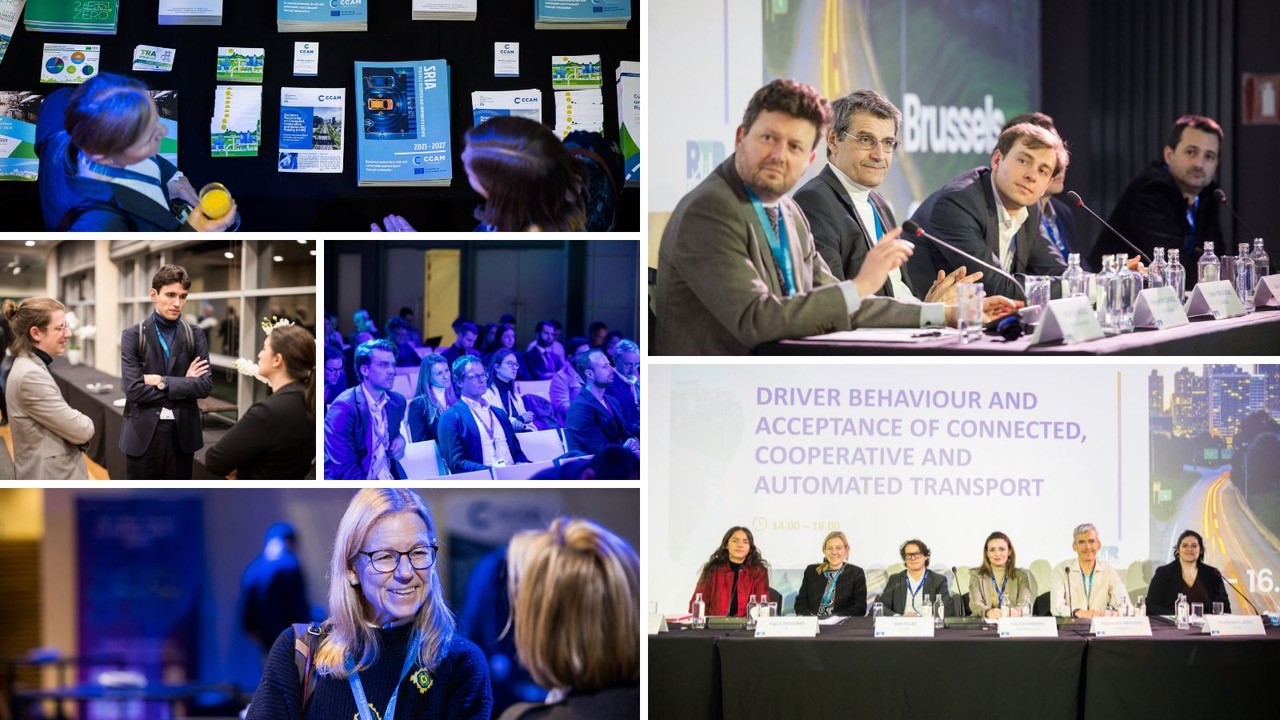 From 14-16 February 2023, EGVIAfor2Zero, ERTRAC, CCAM Association and the European Commission organised the 6th edition of the Conference on Results from Road Transport Research (RTR Conference). More than 350 participants came to Brussels to get an overview of the latest results and developments achieved by the 61 Horizon 2020 invited projects in the field of road transport.
During 3 days, throughout 16 parallel sessions, the attendees learnt about the projects achievements and their most promising results. They got a glimpse of future research needs in the areas covered by the conference: Green Vehicles, Urban Mobility, Logistics, Intelligent Transport Systems, Safety, Automated Road Transport, Infrastructure, and Logistics.
Many sessions were relevant for the CCAM stakeholders but two were of special importance:
On 14 February: "CCAM – New mobility services and future data management needs" with projects AVENUE, AWARD, MobiDataLab, and nuMIDAS
On 15 February: "Driver behaviour and acceptance of connected, cooperative and automated transport" with projects SUaaVE, DriveToTheFuture, Trustonomy, and PAsCAL.
The first CCAM session focused on data collection being at the heart of developing new innovative mobility services. AVENUE offers innovative services and consideration for legal, technical, economic & social issues in their Economic Assessment of Services with AVs calculator. AWARD deep-dived into specific use cases in logistics operations, underlining that such pilots are part of a bigger marathon. MobiDataLab brought together diverse partners to assess data sharing mechanisms, prototype a cloud solution, and conduct innovation exchange sessions. nuMIDAS is creating the New Mobility Data and Solutions Toolkit to help assess the new mobility solutions' potential impact on efficiency, reliability, and safety. In this session discussion concentrated on sharing mobility data while at the same time protecting data privacy and data quality.
The second CCAM session concluded that the citizen's acceptance of CCAM services and recognition of their benefits greatly improve with real-life exposure. SUaaVE focused on empathetic vehicle, PAsCAL on intuitive use of technology, Trustonomy on trustworthiness, and DriveToTheFuture on training and experience.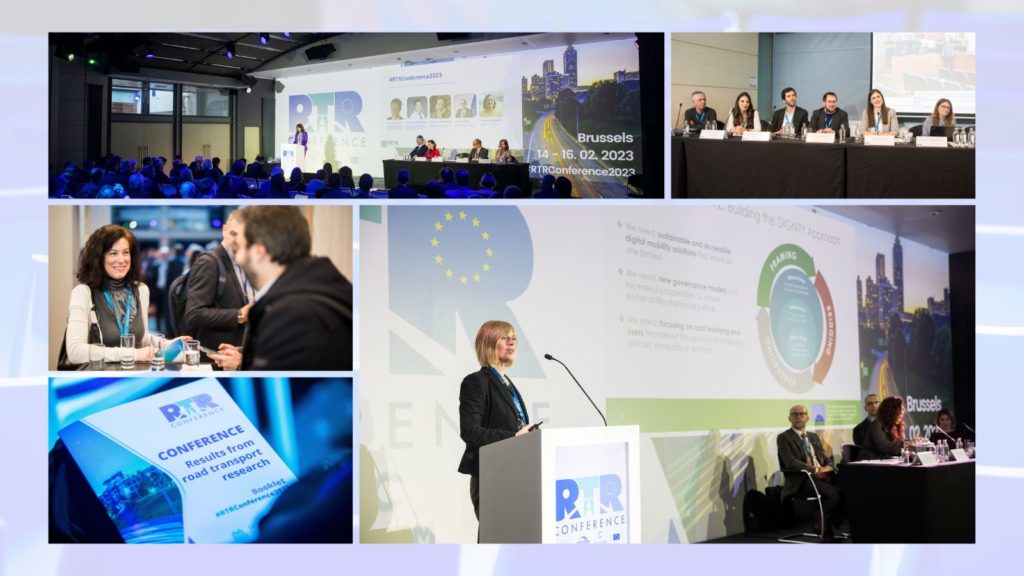 This year, an additional plenary session welcomed 3 European organisations – AVL, Volvo Group, and TNO – to present their experience with EU funded projects over the years. They all agreed that participation in collaborative projects such as those of the H2020 research programme helps them in discovering hidden gems, in building partnerships and identifying business partners. They added that, from their perspective, the research results can constitute the first step towards European standardisation. For that reason and to avoid fragmentation of standards around Europe, it is crucial to be involved in such research programmes.
In the realm of road transport research, cooperation and collaboration play a pivotal role as they are key factors in driving progress in the twin transition of decarbonisation and digitalisation.
The annual RTR Conference provides a platform for disseminating research findings and offers the opportunity to maximise exploitation of projects results. At the same time, the conference highlighted further areas for improvement:
Societal and regulatory dimensions to be taken into account from the start of a project, being paramount to the success of its deployment.
Build on previous success stories and continue with incremental innovation. Research cannot be seen in an isolated way. It needs to be considered in a context of a long-term programme.
Be more agile and fast.
Bigger focus is still needed on future skills and education, including in the field of Artificial Intelligence and data management in road transport.
SYNERGIES was this edition's keyword .
Synergies among partnerships and with other EU programmes can be helpful to fill the gaps. EU R&I is vital for implementation of EU strategies shaping future mobility, job market and competitiveness of European industries.
The conference was a success. Thanks to so many stakeholders sharing their results in R&I in road transport and to the participants communicating with dynamism, the conference was the scene of lively discussions and interactions.
Do not miss the opportunity to rewatch all sessions on the RTR Conference YouTube Channel! The presentations are also available and can be downloaded from this link (valid until 3/04/2023).