SHOW 3rd Pan-European workshop
September 8, 2022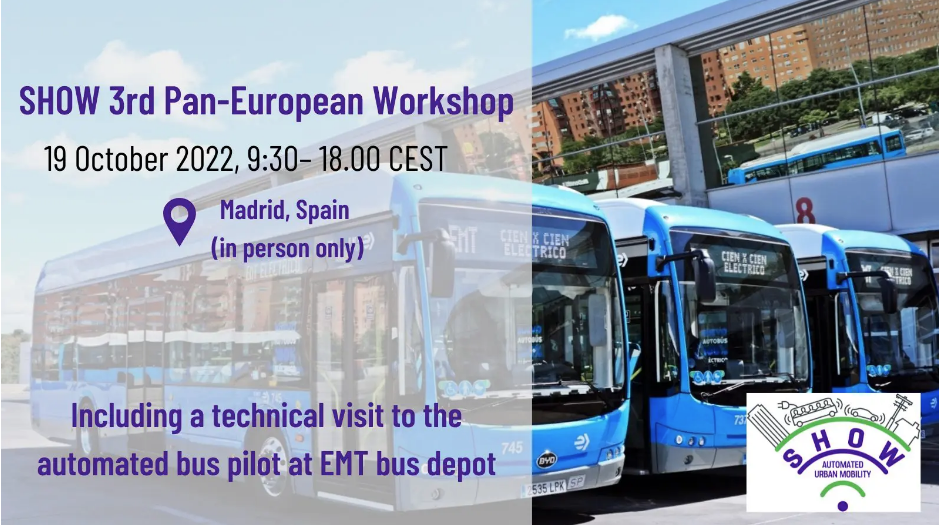 Register now for the SHOW 3rd Pan-European workshop.
The workshop will be hosted in Madrid on the 19th of October 2022 from 9.30 am to 6 pm CET, kindly hosted by EMT – Empresa Municipal de Transportes de Madrid. The workshop will take place as an in-person-only event.
It will start with a series of keynote speeches from high-level representatives from EMT, the city of Madrid and the European Commission, followed by a deeper look into SHOW insights from the real-life demonstrations that have started in numerous cities in Europe.
Guest speakers from sister projects in the EU and US will also share their findings from their AV pilot activities.
As part of the workshop, you will have the unique occasion to visit the automated bus pilot at the EMT bus depot.
A detailed agenda will be shared with you soon.
Registration is accepted until before 15th of September EOB by using this link.
Since places are limited, we will let you know by 19th of September 2022 if your registration has been accepted – the selection will be made on a first-come-first-served basis.
Please be reminded that this event is an in-person-only event, and no streaming is planned. Therefore, we kindly ask you to register only if you are sure to be able to come in person.
The SHOW project aims to support the deployment of shared, connected and electrified automation in urban transport to advance sustainable urban mobility.