Be part of the new activity field on Connected, Cooperative and Automated Logistics Operations
November 17, 2023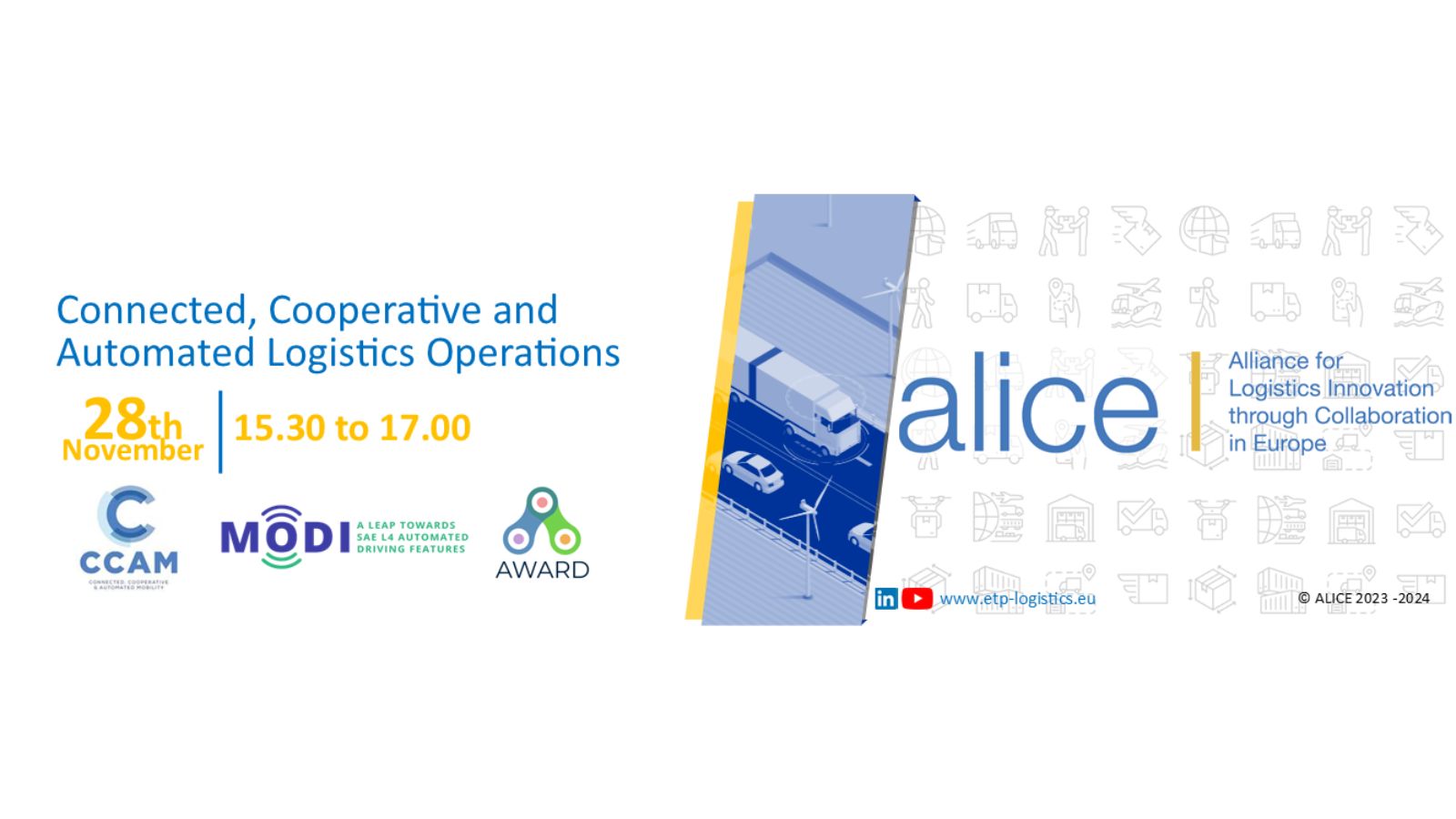 The European Technology Platform ALICE launched "Connected, Cooperative, and Automated Logistics Operations Activity Field" with the European Commission's and CCAM's support.  An online event is organised on 28th November 2023 from 15.30 to 17.00 CET to kick off this new activity field officially.
Why a new activity field on Connected, Cooperative and Automated Logistics Operations
In the frame of the MODI project, ALICE conducted interviews with several logistics companies (ALICE members and non-members) to better understand their needs, requirements, and the foreseen opportunities of automated transport and logistics. This has been valuable input for the MODI project, but it also gave ALICE a better view of the state of play and key interests. A growing interest in launching a new activity field on Connected, Cooperative and Automated Logistics Operations was identified. Zeljko Jeftic (EINRIDE) will lead the activity. EINRIDE is a member of ALICE and CCAM, and is part of the CCAM Partnership Board.
The activity aims to:
Create a stable framework of logistics companies, shippers, and retail under the umbrella of ALICE and supported by the MODI project to identify opportunities, needs and gaps in the integration of automated systems in logistics operations.
Supporting a wider uptake of automated/autonomous, zero-emission vehicles and solutions in real-life logistics operations.
Discuss the potential integration of automated and autonomous operations in logistics use cases and scenarios.
Engage with the automotive and research sectors, supporting the CCAM Partnership and European Commission agenda so the identified needs and challenges are shared and addressed.
The online event encourages logistics users to join and follow initiatives such as CCAM partnerships and projects like MODI, AWARD, ULTIMO, SHOW… It will facilitate the gathering of practical requirements and insights that are crucial for the realisation of value from road automation.
To discover the programme and to register for the event, visit the event page here.